LiftMaster®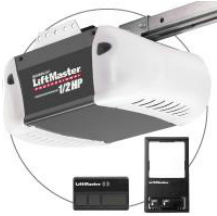 New Installation
​
Our service technicians are experts at servicing and installing all makes of garage door openers throughout the Twin Cities, MN. We highly recommend LiftMaster® brand garage door openers.

LiftMaster garage door openers are manufactured with the highest level of quality and safety and will reverse the door automatically if the safety beams are interrupted. Included is a patented technology that detects a broken spring and triggers the motor to reverse the door to the full open position as well as automatically reversing if the opener senses contact with a person or item as it is closing.

We can install a durable chain drive motor that has an industrial-strength chain drive that provides steady performance. The LiftMaster belt drive series is the ultimate blend of power that is smooth-running and quiet with steel-reinforced belts and the patented MVIS® system. Lift-Master garage door openers provide quality performance to open and close your garage door with safety and reliability you can count on.
​

Installation of a Pre-Purchased Opener

We also provide the option of installing a garage door opener that you have purchased. Our garage door opener installation cost always includes the remove and haul of the old opener and full installation of your new unit.
---


​Servicing the Twin Cities, St. Paul and Woodbury for over 25 years.​
​
If you need a new garage door opener or installation of your opener give us a call today!

Phone: 651-224-9504 – St. Paul, Woodbury and Surrounding Suburbs
763-757-4797 – Minneapolis & Surrounding Suburbs